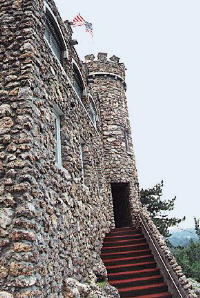 Just win Powerball? Come into a vast family inheritance? Got a spare million laying around and a need to spend it? If so, here's the opportunity to purchase one of the Joplin area's more peculiar historic properties.  Built sometime in the late 1920s or early 1930s,  Sky High Castle commands an overlook of Reddings Mill, built on cliffs above the Shoal Creek valley.  A website for the castle describes it as such:
The interior of Sky High Castle includes hand-hewn beams overhead, two cast-bronze ceiling fans that feature retractable fan-blades, two floors each having a large stone fireplace, and many windows taking advantage of the surrounding views.

Outside, the property is also special. The Castle is perched atop a hill and large chert, stone cliffs overlooking a river valley where Shoal Creek flows. The striking appearance comes from the fact that the Castle and cliffs are made of the same color of stone, so that the whole is of impressive height and width. It is 180 feet of elevation change down to Shoal Creek below. The hillsides have been terraced with many rock walls at various levels. Walkways and stairs lead around the property offering many splendid views of the valley and Castle. Rose moss, phlox, carnations and columbine make a home on the rock walls and terraces. Surrounding the Castle are oak woods and a city park along Shoal Creek comes up to the property line on one hillside. The Castle can be viewed from the town of Redings Mill below. This is true now more than in the past as some clearing has been done.
For photographs of the interior of the castle, just click here. It stands undoubtedly one of the most unique homes in the Joplin area.  If you know any stories of the home, please feel free to share them!